Dr. Elijah Kiarie Receives Research Excellence Award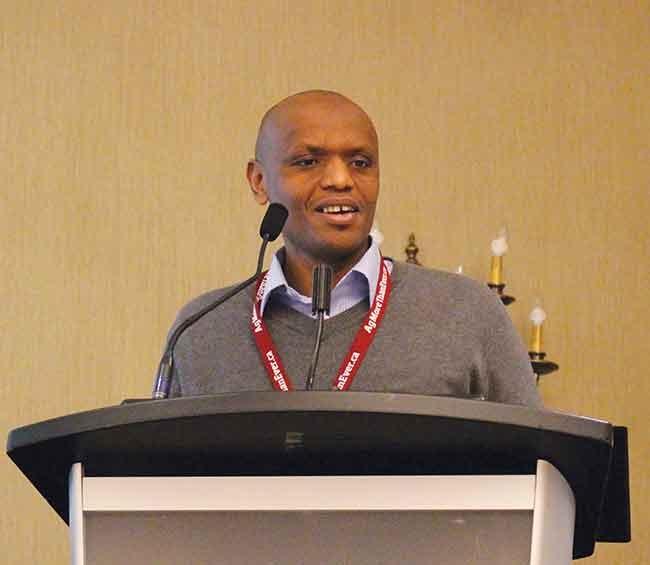 Dr. Elijah Kiarie, an Associate Professor in the Department of Animal Biosciences and holder of The McIntosh Family Professorship in Poultry Nutrition, has been named one of seven recipients of the 2021 U of G Research Excellence Awards. The awards recognize outstanding achievements of early-career researchers and provide an opportunity to highlight their innovative research programs among national and international funding agencies.
"Honoured for the recognition of our contribution to the University mission of research. The award validates the education, research, and mentorship program made possible by the McIntosh Family Professorship in Poultry Nutrition. Heartfelt appreciation to the past and present monogastric nutrition lab students and research associates, as well as colleagues, collaborators, producers, and funding agencies who in one way or another contributed to this a achievement," said Kiarie.
Dr. Kiarie earned his PhD in Animal Science at the University of Manitoba in 2008 and joined the Department of Animal Biosciences in January 2016. Before arriving at U of G, worked in industry as a scientist for a global feed additives company and in academia as an Adjunct Professor at the University of Manitoba. Known for his tremendous enthusiasm, Kiare's research program focuses on integrating discoveries from both basic and applied research into feeding programs to maximize the rate and efficiency of meat and egg production, to optimize health and reproductive performance and to improve food safety. He has authored/co-authored over 200 articles, scientific conference abstracts and presentations with nearly 3000 citations. He is currently supervising a large team of 14 graduate students (7 M.Sc, 7 PhD) and teaches undergraduate and graduate courses in swine and poultry nutrition.
The full announcement from the University can be found here.
Congratulations Dr. Kiarie!