New animal systems modelling researcher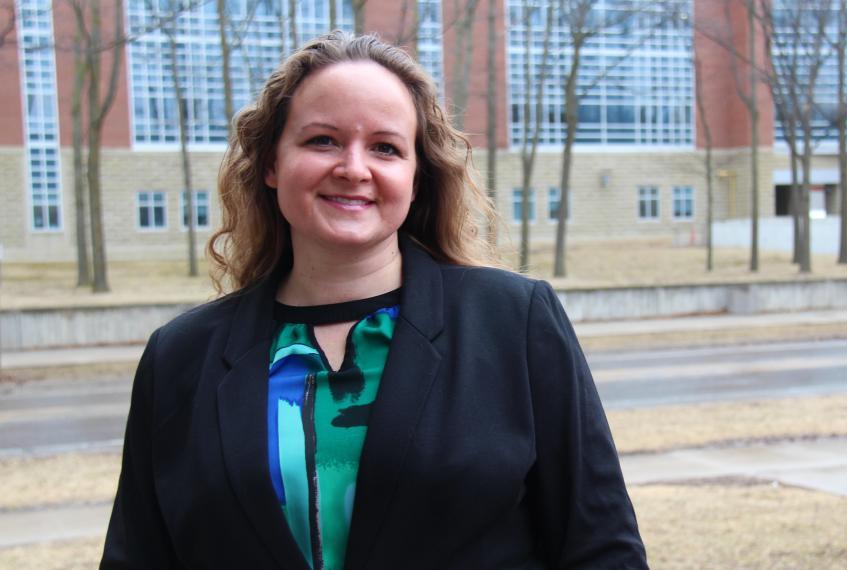 The Department of Animal Biosciences is pleased to welcome Jennifer Ellis as an assistant professor in animal systems modelling. Ellis began in her role on April 1, 2019.
In this role, Ellis will establish a research program on the integration of multiple sources of data related to nutrition, physiology, genetics and behaviour of animals in mathematical models for the purpose of improving performance, product quality, animal health and welfare, and/or the natural environment.
She will also be a key member of the Centre for Nutrition Modelling (CNM) and will contribute to the development of simulation models that capture, integrate and give value to data collected from animals in support of livestock management.
Ellis will also teach graduate and undergraduate students in nutrition, physiology, genetics and behaviour focusing on how to build, test, optimize and use systems models in the field and in research.
"We are very pleased to welcome Jennifer back to Animal Biosciences," says Prof. Jim Squires, chair of the department. "She has been involved in the department since 2002 as a student, post-doctoral fellow and research associate. Her diverse experience as a researcher, mentor and associate director of the Centre for Nutrition Modelling will ensure her success in this role."
Ellis received her PhD, M.Sc. and B.Sc. from the University of Guelph. Her research career, focused on the development and application of nutrition and physiological models within animal science, took her to Wageningen University in the Netherlands and most recently to Trouw Nutrition Agresearch in Guelph where she was a models research scientist.
Ellis' expertise lies in dairy cattle and poultry nutrition modelling, but she has also worked on modelling projects for beef, veal calves, swine and canine species. She conducts research using in vivo, in vitro and in silico approaches and has particular expertise in statistics, data analytics and experimental design.
"I am excited to bring my industry and international experience back to U of G and create a world-class research program," says Ellis. "I am interested the intersection between biological mechanistic modelling and data-driven modelling -- or "big data"-- to combine biological know-how with computing power to support the future of precision agriculture."
Jennifer has published 31 peer-reviewed papers, 27 abstracts and authored 10 book chapters.
Welcome Prof. Ellis!