CGIL Seminar: "Livestock in 2030"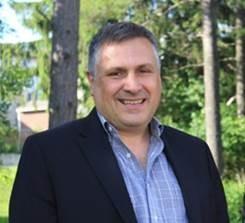 Details
Mike McMorris, CEO of the Livestock Research Innovation Corporation, will present a CGIL Seminar on Friday, February 28th. The seminar will begin at 1:30 PM in room 141 of the Animal Science & Nutrition building.
Mike grew up on a beef and crop farm near Guelph, Ontario. He later went to the University of Guelph, graduating with a Bachelor of Science degree in Animal Science and a Master's degree in Animal Breeding and Genetics. Mike worked for thirteen years with the Ontario Ministry of Agriculture, Food and Rural Affairs, first in extension as the Provincial Beef Genetics Specialist and then in several management roles.  In 1999, he moved to the Ontario Cattlemen's Association where he was Executive Director for a very busy five year period. Following that, Mike spent 4 years with Agricorp as Director of Operations responsible for delivery of crop insurance, CAIS and other risk management programs to Ontario farmers. In 2008, he moved to BIO (now AgSights) as General Manager. Mike is now the CEO of the Livestock Research Innovation Corporation. Outside of agriculture Mike is a diehard Leafs fan and avid bagpiper.
The Centre for Genetic Improvement of Livestock welcomes all interested University of Guelph staff, faculty, students, as well as industry and academic collaborators to attend our CGIL Seminars, which are held on Friday afternoons throughout the Fall and Winter semesters. The meetings are always available remotely via Fuze, for those unable to attend in person, and presentation recordings may also be available after the seminar. ​Please let us know if you need further instructions on how to connect to Fuze or view available webinar recordings.  
Have a great week!
Erin Massender and Kerry Houlahan
CGIL Seminar Coordinators,
Centre for Genetic Improvement of Livestock, 
Department of Animal Biosciences
University of Guelph
cgil@uoguelph.ca
Share this page
Find related events by keyword