Prof. Receives Teaching Award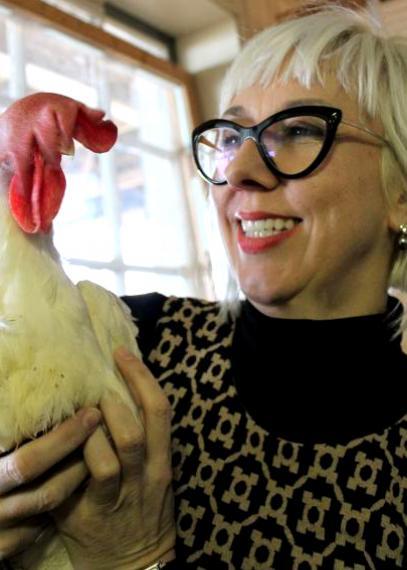 Prof. Alexandra Harlander has won the Poultry Science Association Early Achievement Award for Teaching. The biennial award recognizes the achievements of PSA members in the early stages of their career in poultry-related teaching.
Congratulations!
About Prof. Harlander
Dr. Harlander grew up in the Austrian Alps surrounded by farm animals. This upbringing cultivated her interest in how husbandry impacts animal behaviour and physiology, and ultimately motivated her to study veterinary medicine. In 2014, the University of Guelph's Ontario Agricultural College welcomed her into its Department of Animal Biosciences' Campbell Centre for the Study of Animal Welfare as a tenure-track faculty member. Dr. Harlander's research focuses on the behaviour and welfare of poultry; specifically, the impact of husbandry on poultry physiology and behaviour, birds' motivation to perform abnormal behaviours, and the objective assessment of poultry welfare. Dr. Harlander's research uses bird health and what birds want (e.g. preference tests, including demand analysis) to enhance bird well-being and health within the context of current poultry husbandry practices. For her innovative research, she was awarded the Burnbrae Farms Professorship in Poultry Welfare. Moreover, as a professor, she has taught at all levels at the University of Guelph: two large, required 1st year undergraduate courses, and two small, elective graduate courses. Dr. Harlander's teaching style incorporates experiential learning techniques that foster communication and the exchange of ideas between students. For example, her graduate course "Special Topics in Applied Animal Welfare Science – Domestic Birds/Poultry Welfare", incorporates brainstorming sessions, mind maps, farm visits, and gallery walks. Dr. Harlander's dedication to her students ensures their success, and many of her undergraduate and graduate students have authored peer-reviewed publications, been awarded "best presentation prizes', continued their education at the Veterinary College, or received positions in the poultry industry.