Compliance with Animal Welfare Regulations: Drivers and Consequences
Location
Rm 1511, Science Complex or online via Zoom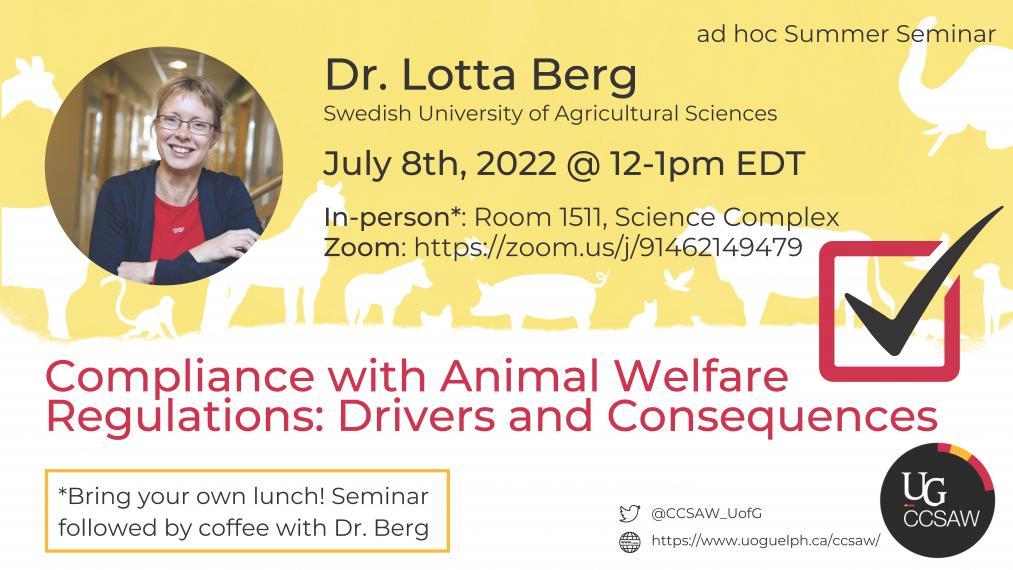 Details
CCSAW is hosting an ad hoc seminar to take advantage of a special visitor in town: Dr. Lotta Berg, from the Swedish University of Agricultural Sciences.
On July 8th, 2022, 12-1pm EDT, she will present on Compliance with Animal Welfare Regulations: Drivers and Consequences, in our first in person seminar for two years! When science turns into policy, codes or even laws, what determines what happens next: whether these changes are embraced and adopted by industry, or resented and evaded? That will be the topic for the day.
To discuss and learn more, come join us in Room 1511, Science Complex, and bring your lunch, OR join us online via Zoom instead: https://zoom.us/j/91462149479.
For in person attendees, there will be coffee with the speaker afterwards.
Dr. Berg is a professor in animal environment and health, covering all species kept by man but focusing on farm animals. She works on preventive herd health, management-related diseases and behavioural problems, and animal welfare. This includes research on legislation and private standards, i.e. the content, structure, control, and sanctions in relation to animal welfare legislation.
Hope to see you there!