Orange Shirt Day and the National Day of Truth and Reconcilliation
September 30th will mark the first National Day of Truth and Reconcilliation. A ceremony, Honouring and Healing Together: In recognition of Orange Shirt Day and the National Day for Truth and Reconciliation, will be held on Johnston Green from 12-2pm. The ceremony will be led by Edlers Dan And Mary Lou Smoke and hosted by the Indigenous Student Centre and Indigenous Initiatives in collaboration with the Indigenous Student Society. All students, faculty and staff are welcome and can attend.
More infromation regarding the event can be found at: https://news.uoguelph.ca/2021/09/u-of-g-marks-sept-30-with-elder-led-ceremony-on-johnston-green/
Powely Day
On Sept. 17, U of G will raise the Métis flag in recognition of Powley Day. The day marks the Supreme Court of Canada's decision to recognize Métis harvesting rights as protected under the Constitution. The flag will remain up until Sept. 20.
"On Powley Day we celebrate the determination of Steve and Roddy Powley that led the Supreme Court of Canada to recognize and affirm the inherent rights of Métis people," says Jamie Horner, Indigenous programs coordinator at U of G.
Horner is a citizen of the Métis Nation of Ontario and supports First Nations, Métis and Inuit students at U of G through her role at the Indigenous Students Centre. "It has been 18 years since the Supreme Court of Canada recognized the inherent right to harvest for ourselves and our families in our historic communities and protected that right for all future generations of Métis people," she says. "We recognize Powley Day as a victory for all Métis people across Canada."
To support physical distancing, a flag-raising ceremony will not be held this year, but you are encouraged to learn more about Powley Day on the Métis Nation website.
Canada Day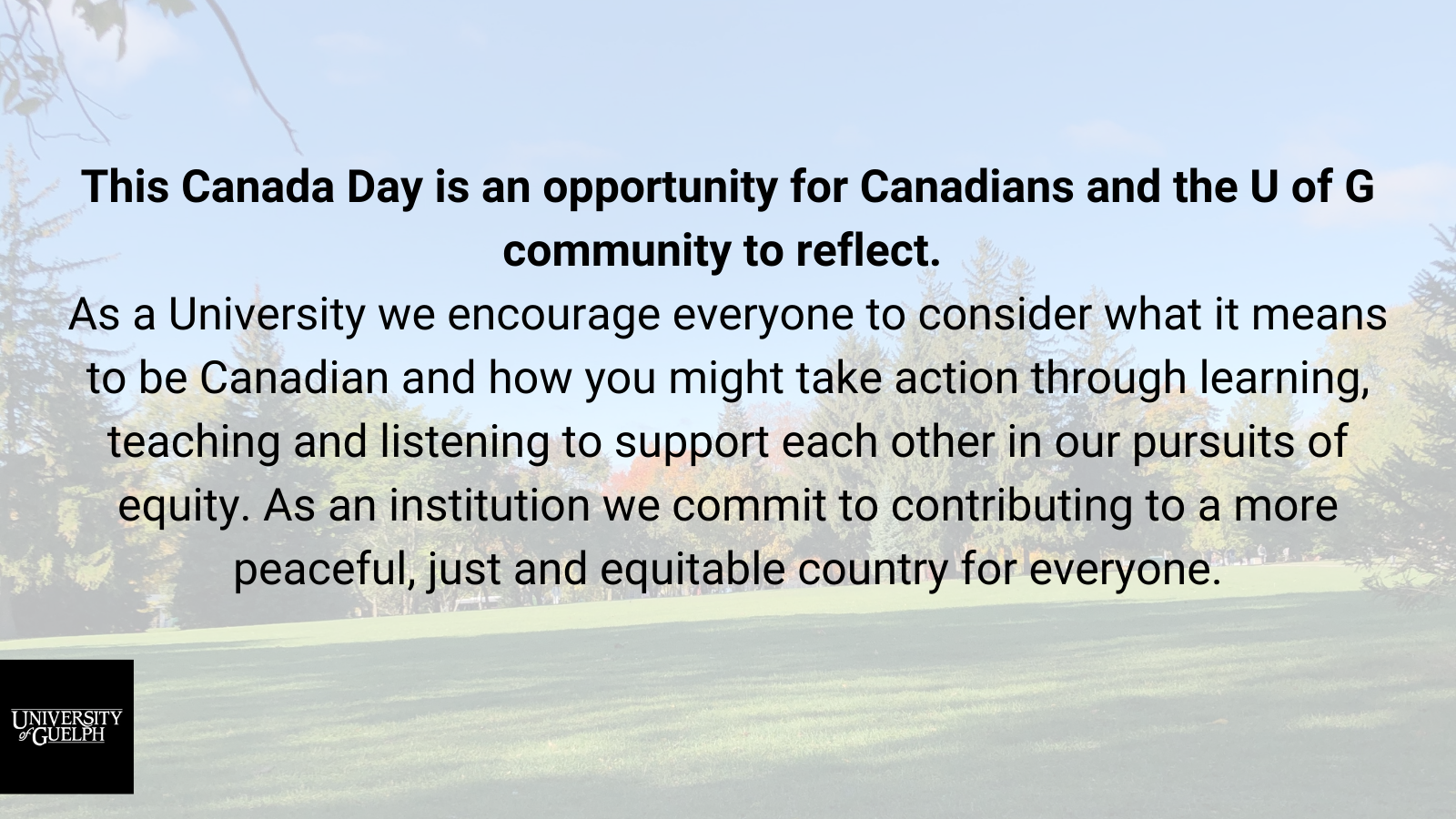 U of G Positive Space Project

Today, the Office of Diversity & Human Rights along with Student Experience launched the Positive Space Project – a training program for faculty, students and staff to increase awareness and support of the LGBTQ2SIA+ community at the U of G and beyond.
Developed with input from members of the U of G's LGBTQ2SIA+ community, the two-part training addresses key concepts, including LGBTQ2SIA+ identities, allyship, coming out, terms and use of inclusive language. It also provides guidance on how best to support LGBTQ2SIA+ faculty, staff, and students at the U of G.
Part one of the training consists of an online module accessible through CourseLink or the DHR website. The second part is an in-person workshop led by an experienced facilitator to turn the information learned in the first part, into practice and action.
To access the module visit: https://www.uoguelph.ca/diversity-human-rights/positive-space-project
For the news release and more information visit: https://news.uoguelph.ca/2021/06/u-of-g-introduces-new-training-program-to-support-lgbtq2sia-community/
---
June 27th-Canadian Multiculturalism Day
A statement from U of G Associate Vice-President Indira Naidoo-Harris:
This is a day for all of us to celebrate and learn more about each other and the dynamic cultures that contribute to our University of Guelph community, province and country.
Gryphons come from all corners of the world, with different experiences, perspectives and cultures, all contributing to the vibrant tapestry that makes up the U of G. At the University of Guelph, our diversity is one of our greatest strengths and we are committed to fostering inclusive, supportive and equitable environments in which everyone experiences an authentic sense of belonging. Equity, diversity, and inclusion are key priorities as we work together to build a strong foundation of success for the future.
Happy Canadian Multiculturalism Day!
Indira Naidoo-Harris
Associate Vice-President
Diversity and Human Rights
---
Sincere Condolences to Indigenous Communities
The Department of Animal Biosciences offers our deepest sympathies to the Indigenous Peoples and communities during this sad and difficult time. As we observe National Indegneous History Month, the horrific discovery of 751 unmarked graves of Indigenous children on the grounds of former residential schools, in addition to the remains of 215 children found in May, are tragic reminders of the truths of Canada's past. We stand committed to creating an equitiable, diverse and inclusive environement that ensures Indigenous Peoples and all members of our community are treated with kindess, compassion and respect.
An official U of G message from the Office of the President can be found at: https://news.uoguelph.ca/2021/06/u-of-g-mourns-with-the-indigenous-community-and-recommits-to-truth-reconciliation/
---