New Aquaculture Prof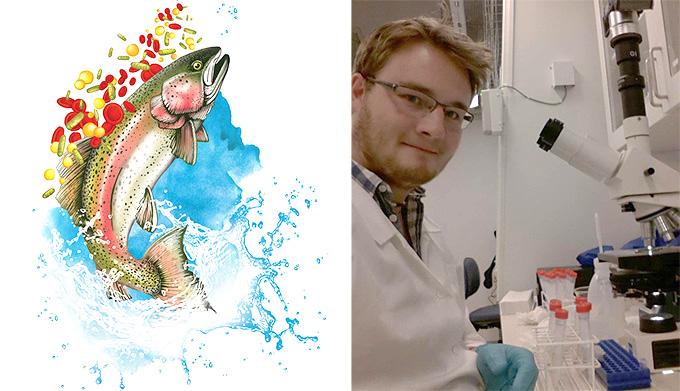 The Department of Animal Biosciences is pleased to welcome Dr. David Huyben as an Assistant Professor in Aquaculture. Huyben will begin his role in July 2020.
In this position, Huyben will establish a research program in a variety of disciplines relevant to the aquaculture sector in Ontario and Canada. In particular, he will build upon his expertise on microbial and nutrition interactions in salmonid species, with the aim of improving health and growth in captive fish. Huyben will also be responsible for both undergraduate and graduate education in the department and will continue the university's long-standing reputation for industry liaison and outreach.
"David brings a wealth of experience that is relevant to our aquafood research, teaching and outreach disciplines," says Prof. Jim Squires, chair of the department. "David sees aquaculture as an emerging form of Ontario's livestock production, and one of Canada's opportunities. His research training in water quality, fish physiology and nutrition, will bring an enhanced skill set to our department and help us build upon over three decades of aquaculture program development in OAC.  We are excited to have him bring his enthusiasm and expertise to the Aquaculture Centre and the department."
Huyben's primary research focuses on the fish microbiome and how gut bacteria contribute to the growth and health of both farmed and wild fish, especially rainbow trout and Atlantic salmon. He is also interested in the health and immune effects of feeding sustainable ingredients to fish including probiotic yeast, omega-3 oils and insect meals.
"I did my undergrad and master's in the Animal Biosciences Department, so after seven years of PhD and postdoc research in Sweden and Scotland I am very excited to come home," says Huyben. "I will be mentored by my former advisor, Prof. Rich Moccia, whom has been an outstanding member of the department, university and aquaculture communities that I am very happy to join again. I look forward to reconnecting with old colleagues and developing new relationships in the department and across U of G."
Huyben received his B.Sc. (Agr.) and M.Sc in aquaculture from the University of Guelph and his PhD from the Swedish University of Agricultural Sciences in an aquaculture discipline.  Since completing his PhD, Huyben spent the past few years as a post-doctoral researcher working in Sweden and Scotland.