University of Guelph's Equine Industry Symposium
Location
Thornborough building room: 1200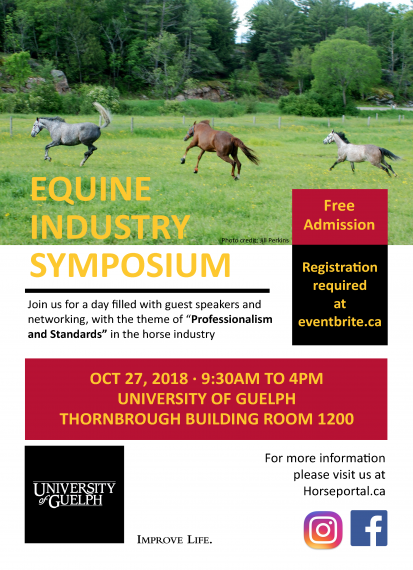 Details
The University of Guelph's annual Equine Industry Symposium is happening on 
Saturday October 27
th
, 2018 from 9:30AM to 4:00PM
in 
Thornborough building room 1200
 on the University campus.
 Come out and engage in a community-wide discussion about prevalent issues within the equine industry.
This year's theme is focusing on discussing solutions pertaining to 
professionalism and industry-wide standards for equine welfare
. Symposium attendees can look forward to engaging conversations with veterinarians, researchers, fellow riders and professional equine business people, facilitated by former CEO of Equine Canada, Akaash Maharaj. The goal of this event is to further unite our community and develop practices that benefit the industry and above all, the horse.
Find us on Facebook at Equine Industry Symposium 2018. Participate in pre- and post-symposium discussion by joining the conference on thehorseportal.com. Registration is free here also; use the code 
EISforum20
18
 to register. 
Forward this message to any equine enthusiasts!