CGIL Seminar: "Supertools for superbugs: Using genomics to study drug-resistant Salmonella in Canadian poultry production"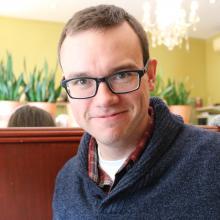 Details
Benjamin Hetman, M.Sc.; a Ph.D. student in the Department of Population Medicine at the Ontario Veterinary College, will present a CGIL Seminar on Friday, October 19th. The seminar will begin at 1:30 pm in room 141 of the Animal Science & Nutrition building.
Benjamin completed his M.Sc. in Biological Sciences at the University of Lethbridge, in Alberta. There, he worked at the Public Health Agency of Canada's National Microbiology Laboratory to characterize foodborne bacterial pathogens using novel molecular and genomic techniques, which led to an interest in applying genomics to the fields of Epidemiology and Public Health. Benjamin has since relocated to Guelph, where he is a Ph.D. Candidate in the Department of Population Medicine. His work investigates the transmission dynamics of 
Salmonella 
Heidelberg in Canadian Poultry, with a specific emphasis on antimicrobial resistance: a key one-health concern currently highlighted by the WHO. Using whole-genome sequencing data from bacterial isolates sampled as part of national surveillance initiatives, he employs bioinformatics and epidemiological methodologies to characterize the population of 
Salmonella 
circulating in Canadian poultry production, and also to identify factors related to the spread of antimicrobial resistance. 
The Centre for Genetic Improvement of Livestock welcomes all interested University of Guelph staff, faculty, students, and industry or academic collaborators to attend our CGIL Seminars, which are held on  Friday afternoons throughout the Fall and Winter semesters. The meetings are always available remotely via Fuze, for those unable to attend in person, and presentation recordings may also be available after the seminar. Please let me know if you need further instruction on how to connect to Fuze or view available webinar recordings.  
Erin Massender (emassend@uoguelph.ca)
Share this page
Find related events by keyword