POSTMORTEM REFLEX ACTIVITY
Lower reflex activity occurs quite often in meat animals and poultry after exsanguination and loss of consciousness.
The intrinsic activity of individual muscle fibers is imperceptible in a whole carcass, so visible movements of large parts of the body must involve some degree of neural coordination.
Postmortem loss of excitability in the axons of motor neurons follows a proximal to distal pattern, is preceded by hyperexcitability, and the rate of loss of excitability depends on temperature.
Neural Pathways
In a recently slaughtered commercial meat carcass, motor neurons in the ventral horn of the spinal cord receive both inhibitory and excitatory inputs, but the descending and ascending tracts that link the brain and spinal cord in meat animals are polysynaptic, so that motor neurons have a high degree of autonomy relative to the condition in humans.
Meat animals have only a small direct motor cortex in the cerebrum, only short motor tracts descend the spinal cord, and sensory areas of the cerebral cortex are dominated by inputs from the lips and snout while areas corresponding to the limbs and trunk are very small.
Source of Activity
Neural activity may originate intrinsically from motor neurons that have just been released (by cell death or disruption) from their normal inhibitory control.

Motor neurons are normally restrained by a variety of inputs, such as those from Renshaw cells.

True reflexes such as the myotactic or stretch reflex of muscles might occur briefly in carcasses.

Myotatic reflexes normally act via a sensory input from neuromuscular spindles so that a muscle will contract to resist a stretching force.
Inhibition of Activity
Carcasses normally are suspended on an overhead rail, and some muscles are stretched before exsanguination.

Because severe stretching occurs in some muscles, an opposite response may be created by activation of Golgi tendon organs.

Golgi organs are located on tendons and, following extreme muscle stretching, they inhibit appropriate motor neurons and cause sudden muscle relaxation.

Stunned animals are usually shackled by only one hindlimb, so reflex jerking by the free hindlimb may originate from a crossed extensor reflex acting through reflex pathways normally associated with locomotion or withdrawal from a painful stimulus.
EMG (Electromyography)
Reflex activity during slaughter may be seen by electromyography during the time that the carcass is handled after stunning, as in the example below, which shows EMG activity just before, during and after the point of exsanguination (at 0 sec).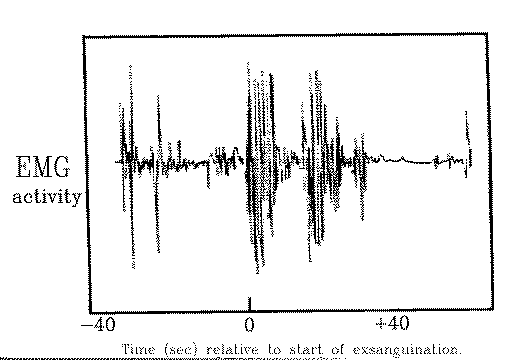 EMG may reveal isometric muscle contraction in the shackled limb that is not otherwise easily visible.
Respiratory Reflexes
As the degree of reflex activity diminishes, the animal's respiratory reflexes become evident. Most commonly, the animal coughs and moves its head downwards or ventrally. This may be detected by EMG activity in the ventral muscles of the throat or by bouncing of the carcass, detected with a load cell in the shackling chain, as shown in the example below.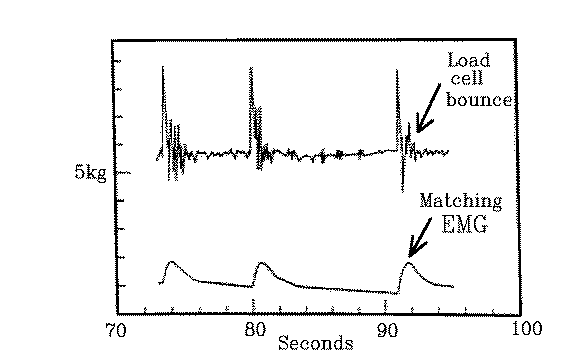 In this example, the upper line shows the bouncing of the carcass on a load cell in the shackling chain, while the lower line shows integrated EMG activity of the throat muscle. Thus, every time the head was pulled down by a postmortem reflex, it was detectable by both methods.
Less commonly, the pig throws its head backwards or dorsally so that its vertebral column is concave dorsally.

In lambs, post mortem reflex activity may be minimized by sequential application of a head stun, a current across the heart to stop it, and then a current down the spinal cord to depolarize spinal neurons.
Commercial Importance
Reflex activity after stunning is important in the meat industry because it may hinder exsanguination, or accelerate muscle metabolism to cause PSE.
References