Muscle fiber nuclei
Muscle fiber nuclei contain DNA combined with histones and other structural proteins to form chromatin. When DNA is used to direct the protein synthesis, the chromatin is dispersed, only binds weakly to histological stains, and is called euchromatin. In non-dividing cells, chromatin may form darkly stained irregular clumps called chromatin particles.

Nuclei also contain RNA and darkly stained clumps of RNA form nucleoli. The number of nucleoli may vary between animal species.

Condensed regions of darkly stained chromosomes sometimes persist between cell divisions and are called heterochromatin.

In the mononucleated cells of the body, such as those of the skin or liver, darkly stained chromosomes composed of inactive DNA are seen when cells divide. However, the situation in multinucleated striated muscle fibers is more complex, and distinct chromosomes are not seen by light microscopy within a muscle fiber, even though new DNA is synthesized, mitotic divisions do occur, and millions of new nuclei are formed.
Satellite cells
The solution to this paradox (mitosis without easily visible chromosomes) is the fact that several types of nuclei occur among the several hundred located along each centimetre of fiber length.

True muscle fiber nuclei (a) are located within the sarcoplasm. But, although the nuclei of satellite cells appear by light microscopy to be located within the sarcoplasm, electron microscopy shows that satellite cells are located in depressions in the fiber surface.

Thus, the nucleus of a satellite cell (b) is separated from the sarcoplasm of its muscle fiber by a satellite cell membrane and a muscle fiber membrane, which cannot be seen easily by light microscopy, as in image B.).
The existence of satellite cells was established properly by electron microscopy (although some light microscopists had already found them).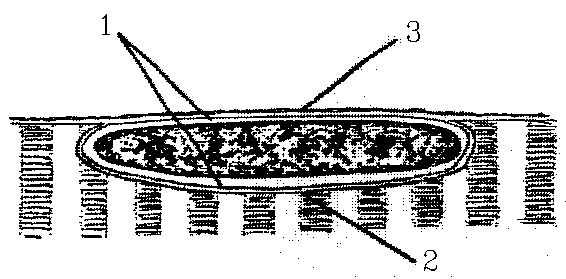 1 = satellite cell, 2 = depressed muscle fiber, and 3 = endomysium wrapping around both the muscle fiber and its satellite cells.
The other types of nuceli that may appear are

fibroblasts (c) involved in making the connective tissue fibers of the endomysium.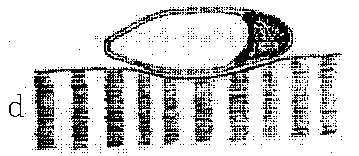 Endothelial cells (d), here shown forming a small capillary on the muscle fiber surface.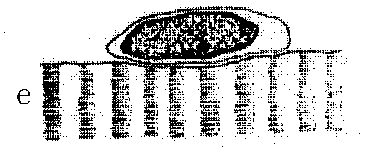 Pericytes (e) are mesodermal cells found around very small blood vessels. They contain actomyosin and are probably capable of contraction and phagocytosis.
Perhaps an important point to stress is that finding the membrane around the satellite cell is tricky, even with electron microscopy.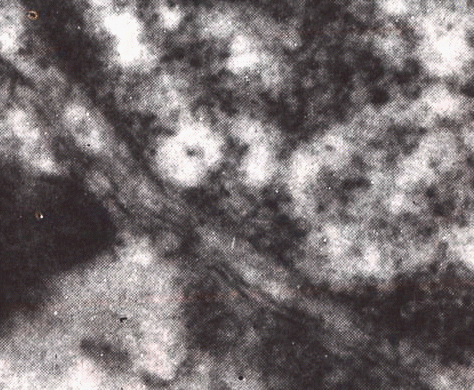 Here the separation runs from top left corner to bottom right corner, with the satellite cell nucleus on the right, and this is a good separation!
Increase in number
Muscle nuclei increase in number during postnatal development but the relative magnitude of the increase varies from muscle to muscle. Before the existence of satellite cells was proved by electron microscopy, it was rather difficult to explain how muscle nuclei were able to increase in number without any evidence, by light microscopy, of mitosis in muscle fiber nuclei. Muscle fiber nuclei are able to withstand longitudinal compresssion during muscle contraction by means of concertina-like wrinkles in their nuclear membrane and, for many years, histologists regarded wrinkled muscle nuclei as evidence of nuclear division.

New nuclei added during the postnatal growth of muscle fibers come from the daughter cells of satellite cell mitosis.

Like myoblasts, satellite cells are part of the myogenic cell lineage from somitic mesoderm.

The main two functions of satellite cells are to provide nuclei for growing muscle fibers and a source of myoblasts for postnatal muscle regeneration. Possibly these two functions may be independently regulated by factors such as insulin and somatomedins controlling the growth function, and fibroblast growth factor controlling the regenerative function.