LAB 9.1 Hindquarter skeleton
PLAY VIDEO
The skeleton of the loin, sirloin and rump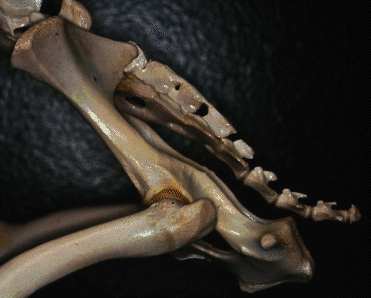 Sheep pelvis
In a live animal, the lumbar vertebrae act like a suspension bridge to support the weight of the abdomen. The lumbar vertebrae have flat, wing-like transverse processes that broaden the abdominal cavity dorsally to provide a strong attachment for the muscles of the abdominal wall that carry the weight of the viscera.

Plan of kumbar region in hanging beef carcass showing: 1, ilium; 2, sacrum;3, last lumbar vertebra;4, first lumbar vertebra; and 5, last rib.

The propulsive thrust generated by the hindlimb during locomotion is transmitted to the sacral vertebrae by the pelvis. To strengthen the sacral vertebrae, they are fused together to form the sacrum.

Plan of the sacral region in a hanging beef carcass showing:1, ischium; 2, femur;3, sacrum; and 4, ilium.

Fusion of the sacral vertebrae to form the sacrum is incomplete in young animals and provides an important clue to animal age in the dressed carcass.

The pelvis is formed by three bones on each side. The most anterior bone on each side is the ilium. The shaft of the ilium expands anteriorly to form a flat wing attached to the sacrum. This joint is called the slip joint. When seen in a sirloin steak, the ilium may appear either as a small round bone or a large flat bone. The anterior edges of the ilia form the hooks of the live animal. The most posterior bone of the pelvis on each side is the ischium.
The pelvis and the sacrum form a ring of bone completed ventrally by the pubes. The left pubis is separated from the right pubis by fibrocartilage which, at parturition, may soften to allow movement between the bones of the pelvis. The pubes are separated when carcasses are split into left and right sides in the abattoir.

Plan of the pelvis in a hanging beef carcass showing:1, lesser sciatic notch; 2, ischiatic spine; 3, greater sciatic notch; 4, psoas tubercle; 5, obturator foramen; 6, symphysis pubis;7, ischium; and 8, ilium.

The pubic bone exposed on a carcass is called the aitch bone. The aitch bone is curved in steer and bull carcasses, is moderately curved in heifers, but is straight in cow carcasses.

Another plan of the both sides of the pelvis in a hanging carcass showing: 1, tiber coxae; 2, acetabulum; 3, acetabular ramus of ischium; 4, tuber ischii; 5, symphysis pubis; 6, ilium; 7, pibis; and 8, ischium.

Only two caudal or coccygeal tail vertebrae are left on a commercial beef carcass.

The shape of the symphysis pubis seen on a side of beef is a useful guide to the sex of the carcass: 1, steer; 2, heifer; and 3, cow, where x shows the position of the pizzle eye.