LAB 6.2 Female reproductive system

Diagram of ventral view of a sow's reproductive system.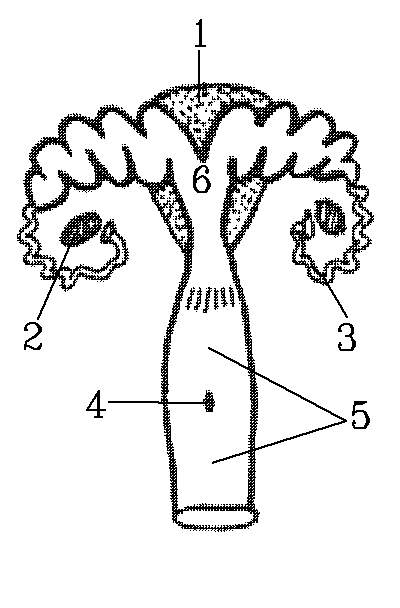 1. Bladder 2. Ovary 3. Oviduct 4. Opening of urethra 5. Vagina




PLAY VIDEO



Female mammals have a pair of ovaries located posteriorly and dorsally in the abdominal cavity Figure 1-21c.The image below shows one ovary of a cow.


Ova develop in the cortex (outer layer) of the ovary. Each ripe ovum is enclosed in a fluid-filled follicle, as shown in the histological image below.

At estrus, ova are released into a ciliated funnel or infundibulum at the end of each oviduct (fallopian tube).

The oviduct on each side leads into a horn of the uterus where embryonic development takes place. The image below shows one horn of the uterus of a cow.



At birth, the offspring emerge through the dilated cervix and vagina.The image below shows an undilated cervix of a cow.



Mammary glands are derived from highly modified sweat glands of the skin. The udders of sheep and goats are divided into right and left halves, each with a teat. The cow's udder has four quarters so that there are two teats on each side. Most sows have seven pairs of mammary glands and a total of 14 teats. Milk is produced in glandular alveoli, and it collects in the cistern of the teat. The bovine udder is supported by medial and lateral suspensory ligaments which are dominated by elastin and collagen fibers, respectively.