LAB 4.4 Spleen & respiratory system
PLAY VIDEO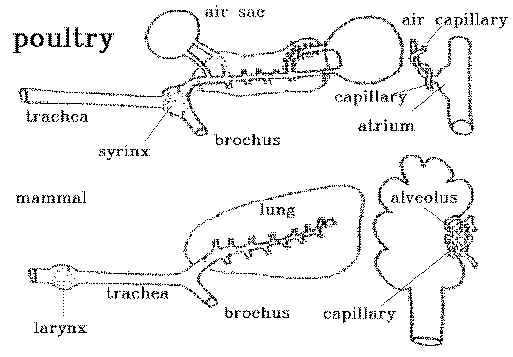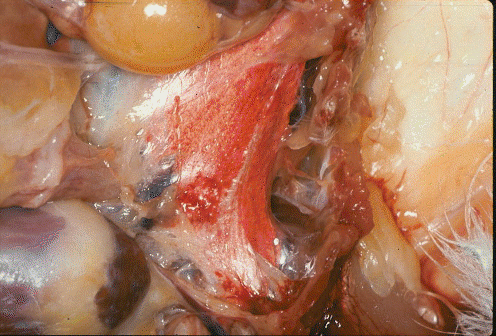 The lung is the red tissue in the image above.
There is no diaphragm separating thoracic from abdominal cavities.
Instead of being drawn into the lungs and then exhaled, air is drawn through the lungs and into air sacs outside the lungs. On exhalation, the air passes back through the lungs to the exterior.
In poultry, therefore, the gaseous exchange between air and blood takes place as the air is moving through the lungs.
The lungs of poultry are much smaller than those of mammals (relative to body size). Instead of occupying almost the whole of the thoracic cavity, they are located under the vertebral column where they are shaped to fit between the deep arches of the ribs where they meet the vertebral column.
The lungs of poultry are usually removed with a suction tube during commercial slaughter procedures whereas, in meat animals, the lungs are removed together with the trachea, bronchi and heart, as plucks.
The extensive system of air sacs in poultry extends between many of the viscera and even into certain bones.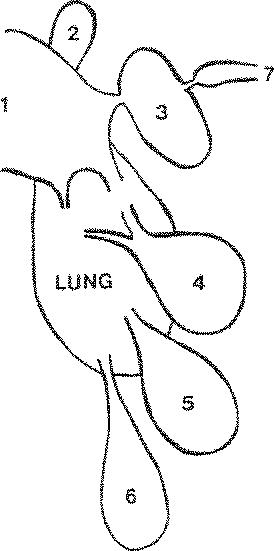 The interclavicular air sac is a single structure in the midline but the other air sacs are paired (right and left).
The cervical extends towards the neck.
The axillary is within the body at the junction with the wing.
The anterior thoracic, posterior thoracic and abdominal sacs are in the body cavity.
The humeral is located within the humerus as a branch of the axillary sac.
Air sacs have extremely thin walls and, when poultry are dissected, they should be identified while the viscera are in a relatively undisturbed condition.
1. Trachea.
2. Syrinx (vocal organ at base of trachea)
3. Bronchus
4. Secondary bronchus
5. Air sac
6. Recurrent bronchus
7. Tertiary bronchus
8. Gas exchange of moving air
9. Lungs relatively small and located dorsally
10. Atrium instead of alveolus