Considerations at Weaning Time
Gordon King, Animal Science, University of Guelph, Canada
Newborn piglets have very limited ability to digest feed. The sow compensates for this by producing milk, a readily digested diet supplying almost all the nutritional requirements of her offspring, and offering this frequently. Also, the immune system is immature at birth so piglets have no inherent resistance to disease and cannot generate any real protection for five or six weeks. Antibodies concentrated in sow colostrum compensate for this initial deficiency but protection is short and usually has disappeared by weaning time (ie. in 3 to 5 weeks). Weaning, particularly at younger ages, involves a sudden change of diet and environment, so is certainly one of the most potentially distressing stages in a piglets life.


The Weaning Process - removal of milk access
Old system: at 8 weeks. By this time the sow's milk production is declining substantially, and solid feed consumption by piglets is sufficient to account for 70-80% of nutritional requirements. Weaning at this age is a natural process.
Recent system: 4 - 6 weeks. Piglet solid feed consumption accounts for 50-60% of requirements so no serious problems should be encountered with weaning at this age.
Newest system: around 2 weeks. Very little solid feed consumption by this time so it is a somewhat less natural process. If attempted, very early weaning must be done carefully and with proper facilities.
No one knows for certain what is the optimum age for weaning. The following points must be considered in making any decision on weaning time.
Piglet Immunity
Passive immunity (colostrum) is transient and declining to very low concentrations by 14 days.
Piglet does not start building its own active immunity until about 21 days.
Acquiring active immunity is a slow process even if exposed to antigens as part of disease control program so piglet has little protection for another 2-3 weeks.



Postweaning Fertility
A number of older studies indicate a negative relationship between age at weaning and subsequent interval to estrus and litter size. However, this work was done with pigs of different genotypes and under different management than is currently available.
More recent, but still preliminary, work indicates no adverse affect on sow fertility, even when piglets are weaned at 8 to 14 days of age. In contrast, first litter gilts may experience delayed estrus after very early weaning.
If rebreeding problems persist after weaning of the first litter and producers still wish to use very early weaning within their herd, it would be necessary to devise alternate management procedures. Litters from mature sows could be weaned very early but it might be necessary to allow litters on gilts to nurse for longer periods. Another possibility might be to wean the larger piglets from gilts litters at 7 to 10 days of age but leave the smaller piglets for another week or more. Any of these modifications will create additional difficulties for the operating routine. Thus, pig farmers should be convinced that very early weaning provides considerable long-term advantages before making any permanent changes which involve different routines for gilts and sows.
There is still insufficient information available to be certain about prolificacy. If piglets can be weaned at two weeks of age and sows rebreed quickly without any reduction in subsequent liter size, this would increase prolificacy.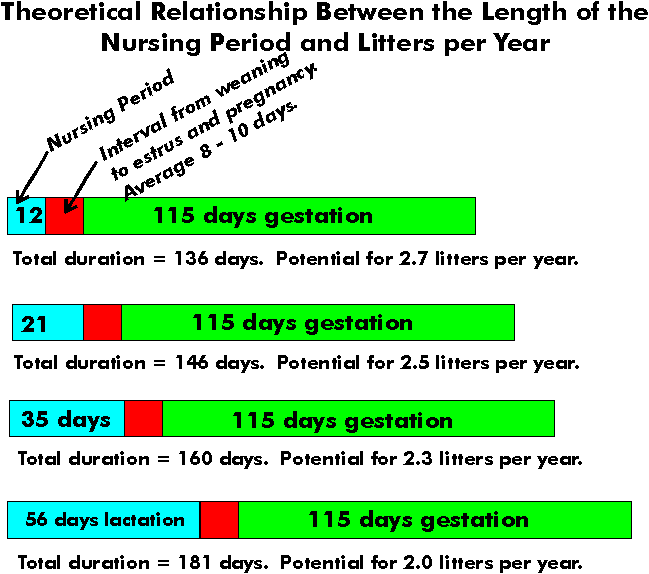 Available Facilities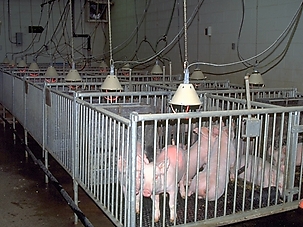 Most pig farmers in Canada and elsewhere in regions where intensive production is practiced, have units designed for weaning piglets at 3 to 6 weeks of age.
Those currently removing piglets around 4 weeks might reduce weaning age by a few days or even one week without difficulty. However, the existing units are not suited for anything earlier.
Specially designed building are necessary for successful, very early weaning.
If a new is unit being planned, the operator might consider very early weaning.



Labor Competence
Earlier weaning demands a very high degree of competence from animal attendants.
Any producer must consider staff attitude and skills when contemplating how early to wean piglets.
The animal attendants may need substantial training and motivation to operate successful early weaning programs.



Feed Costs
The earlier the weaning - the more critical and expensive the diets needed. However, very young piglets consume small quantities so this is not a large expense per individual.
Must have 2 or 3 extra diets available, each containing special ingredients.
If skim milk powder or other high quality substitutes are available at low cost, formulation of such diets may be practical for use on commercial farms.



Advantages and Disadvantages of Very Early Weaning
Advantages:
i) Better disease control, removes piglets from sow and her potentially pathogenic micro-organisms while they still have good passive immunity from colostrum.
ii) Possibly better or more uniform piglet growth.
iii) In theory, better sow productivity. A shorter lactation period should allow more litters per sow per year, provided that an earlier weaned sows returns to estrus quickly and rebreds successfully with no reduction in her subsequent litter size.



Disadvantages:
i) Potential delayed fertility in sows. The already published literature suggests this would be a problem but preliminary data from some commercial entrepreneurs indicates it is not.

ii) Very early weaning requires very special facilities. These include:
- isolated, precisely controlled environments, different each few days at start and then adjusted weekly as pigs grow to 9 or 10 weeks of age; (a totally isolated unit, supplemental heat and ventilation are very important);
- diets are critical, must be matched with each age and changed gradually, (need specially supplemented and probably medicated feed at start);
- several water nipples at different heights/pen so piglets can always reach these without difficulty;
- no contact between staff responsible for the early weaning unit and other pig handlers;
- should be able to totally dismantle and clean pens between every group;
- exclude rodents and insects;
- may even need to autoclave feed if disease problems persist;

iii) Very early weaning relies on competent, dedicated attendants.

iv) It still experimental and not yet established widely on a commercial scale.

v) Very early weaning should be part of a three site production system. The breeding herd and farrowing unit is on one site, the piglets are transported to a second site at weaning, and then to a third site for the growing-finishing stage.


Basic Essentials for Satisfactory Weaning
Minimize Distress
Weaning provides both a social and physiological stress, a vulnerable stage for all piglets
Piglets should be properly preconditioned and kept with some litermates
Physical Environment
Maintain animals within comfort zones.
Have an adequate group size (10-20/pen) so animals can huddle to effectively conserve heat if cool or spread out if warm.
It is more expensive to provide smaller pens but fed intake is higher in smaller groups and problems should be noticed more quickly.
Provide suitable flooring, plastic mesh or perforated metal is usual.
Feeding
A palatable ration that meets all nutritional needs is essential.
The facility for all recently weaned piglets should be equipped with suitable feeders that make feed visible and accessible. Need more feeder space per piglet if using any form of restricted feeding.
Place feeders to minimize chance of fouling
It is advisable to feed little and often for first few weeks.
Discard all uneaten feed and clean feeders thoroughly, at least once daily.
Change the diet regularly as piglets mature. Piglet at 14 days of age has limited ability to digest plant proteins and uncooked starch. Must compensate for this by formulating diet from more readily digestible, and more expensive components.
Most operators include antibiotics in weaner diets.
A readily accessible water source is essential. Nipples are best since these are les likely to become contaminated with excretions. (2 nipples per 10 piglets, preferably at dual heights for very early weaning)
If using water containers, these should be cleaned and refilled daily. Water containers are handy for administering medicines.



Monitoring Weaner Piglet Performance
Observing Behavior
if comfortable, piglets should be lying spaced out and breathing easily;
if huddled closely together with some piled on top of others, they are too cold;
if lying hunched up on sternum and almost all the floor space occupied they are too crowded;
if breathing very rapidly (panting) they are too hot;
all piglets in the pen should be able to eat at same time if feeding is restricted;
squealing and excessive activity around drinker indicated not enough access or nipple is plugged;
pig behaving differently than other pen-mates may indicate illness;
Behavioral anomalies like ear, tail or flank biting and naval sucking may be encountered. Victims are evident but it is difficult to catch the instigator(s). Usually only one animal stars this and, if it can be caught early, isolation for a few hours or days stops the problem. Toys may help for short periods.
Health and Survival
High morbidity, mortality and drug use indicate an unsatisfactory system
Feed Intake
High intake soon after weaning indicates all is well. Be certain that it is the result of intake, not wastage.
Healthy, well fed piglets should reward operator with good live weight gain and feed efficiency.



Problem Pigs
Not all piglets are created equal and weaning certainly brings this out. Attendants might cater to unthrifty pigs by separating them and removing to a "higher quality unit" (medicated feed, warmer environment, little or no competition).
Usually find a special nursery or hospital pen in weaning units
Might just need to keep on first starter diet for a few extra days.
It is advisable to partition off a small area in each weaning pen to handle smaller, less competitive individuals.



Most people when looking at a pen of 20 pigs with 18 good and 2 poorer individuals in the group, concentrate attention on the poor ones. These two need a better environment but the remaining 18 (90%) are fine with what they have. Rather than change the system for all, it would be better to provide a special nursery area for the poorer individuals so they have a chance to catch-up.
Go to Reproductive Management.
Go to Pork Production.