Biography
Born in Galt (Cambridge, ON, Canada) in 1920, Dr. Donald Shaver's interest in poultry breeding began at the early age of 12, followed three years later by the launch of a small hatchery called Grand Valley Breeders, and participation in the Standard Egg Laying Test of the day, in both Canada and the USA.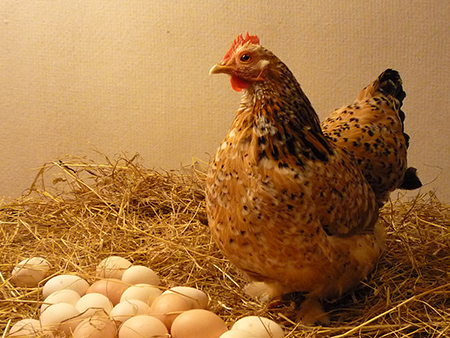 From 1940 to 1945 Dr. Shaver served as an officer in the Royal Canadian Armoured Corps, first in Africa, then Italy, and finally West Europe.At war's end he was a regimental Commanding Officer, and in peace time, he has maintained his connection with the military as an Honorary Colonel. The military discipline he gained during the war was instrumental to develop his work ethic which would become characteristics of his management style later on. When he returned from war in 1946, he had to revive his hatchery and used his war gratuities to buy stock from other breeders. After witnessing hunger and destruction, Dr. Shaver's long term aim became to improve animal production systems, especially thorough breeding. In 1954 the Shaver Starcross 288 White Leghorn layer surpassed other breeds by producing an average of 290 eggs per chicken per year. Upon this success, he entered into the export market with sales of chickens to the United States, South America, Europe, Asia and Africa. When he retired as CEO of Shaver Poultry Breeding Farms in 1985, his company was operating in 94 countries andlines derived from the Shaver Starcross 288 were producing more than a quarter of the world's white and brown eggs, and approximately 15% of the world's chicken meat.
Believing that some of the same breeding principles he used with poultry could be applied to beef cattle, he undertook a 25-year project to produce a synthetic beef breed incorporating nine breeds excluding all the main lines of the day (Angus, Hereford, Simmental, Charolais, and Holstein). The result was a highly prolific pure red breed of beef cattle with approximately 75% retained heterosis that crosses well with all other breeds. Dr. Shaver donated to the Canadian Government approximately 300 frozen embryos from a broad genetic base, and 13,000 semen services from 14 unrelated sires. This material is held for posterity at the University of Saskatchewan.
Throughout his career, he also helped reduce world hunger by working as the volunteer chairman for the Developing Country Farm Radio Network, by offering his services and expertise to the United Nations on a voluntary basis, and by actively engaging Shaver Poultry Breeding farms in ethically sound business practices and philanthropic endeavours. He was appointed a member of the Order of Canada in 1978 and promoted to an Officer of the Order of Canada in 1990 in recognition of his breeding efforts and for his contributions to reduce world hunger. Since 1983, he has served as a director on the boards of several corporations in various fields, including insurance, telecommunications, aircraft manufacturer, farm machinery, nuclear medicine, nuclear waste disposal and offshore drilling. For 12 years, he was the chairman of a Crown Corporation Conglomerate, retiring at the age of 88.He has received three Honorary Doctor of Science Degrees, one from McGill University in 1983, one from the University of Guelph in 1995, and one from the University of Alberta in 2003.
Although in his 90s, Dr. Shaver is still activeon multiple advisory boards and is dedicated to raise awareness on the challenges of feeding a growing world population in the context of climate change, and disappearing agricultural land. As a key-note address, Dr. Shaver will discuss "Mandating a sustainable economy before it is too late"
 Don Shaver's keynote address at the International Symposium on Avian Endocrinology (ISAE2016) on the topic "Mandating a sustainable economy before it is too late" on October 11, 2016.

Download Transcript of Don Shaver's Keynote Address
All session by Dr. Donald Shaver
11:20-12:00
White Oaks Resort and Conference Centre