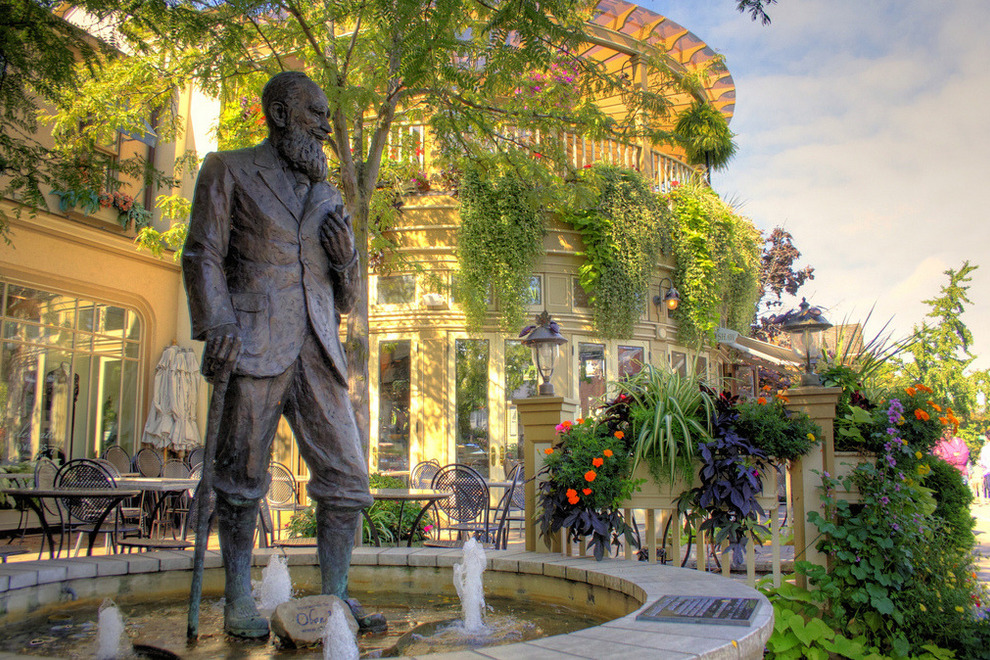 The Shaw Festival is a theatre company inspired by the work of Bernard Shaw. We produce plays from and about his era and contemporary plays that share Shaw's provocative exploration of society and celebration of humanity.
In the spirit of Bernard Shaw, the Shaw Festival provokes the mind and stirs the soul through a theatre experience so compelling that, year after year, ever broadening groups of artists, audiences and supporters are drawn to our work in Niagara-on-the-Lake and beyond.
Playbill:
A Woman of No Importance
In this society, if you want to know what's really going on, join the women on the terrace at Lady Hunstanton's country house party. Marriage, affairs, divorce – and, of course, the wickedly attractive and scandalously unmarried Lord Illingworth are all thoroughly discussed. Word is that Illingworth would like to become a diplomat and make the young Gerald Arbuthnot his protégé. But when Gerald's mother arrives at the party, their world is rocked when her long-concealed secret comes back to haunt them all. Wilde's witty and piercing look at society's public values and their impact on private lives.
Alice in Wonderland
On a summer day in 1862, ten-year old Alice and her two sisters were told a story about a little girl, a white rabbit and a trip down a hole into an astonishing world. The tale of Alice's adventures underground became one of the best-selling books of all time and this beloved story is brought to life in a newly commissioned adaptation, written especially for the Shaw acting company. Delight in the stunning visuals and theatrical magic as we meet the Cheshire Cat, the Mad Hatter, the Mock Turtle and the Queen of Hearts and watch Alice try to make sense of this world of grown-up nonsense. A magical, musical experience for adults and children alike!
Our Town
Grover's Corners – an ordinary town rendered with extraordinary care in this American classic. In a play stripped to its essence, a Stage Manager welcomes the audience and tells us the story of life in this small town. We are invited into the everyday lives of the town's inhabitants and through them, witness enduring truths of the human condition. We follow the lives of George and Emily whose touching romance reminds us of the urgent need to live each moment. First produced in 1938, this Pulitzer Prize-winning drama has become an American classic and is Thornton Wilder's most renowned play.
Mrs Warren's Profession
Can Shaw still shock you? We think so. Kitty Warren has worked hard to provide for her daughter and now that Vivie is about to strike out on her own, her mother decides it's time for her feminist daughter to finally learn the truth about her mother's profession. A contemporary look at a classic play that still challenges our notions of motherhood and the business of sex. Originally banned from public performance, it was first staged at a private men's club and the production in New York led to arrests. Shaw himself said about the play, "Ah, when I wrote that, I had some nerve."
Engaged
A comic look at love, marriage and money from one half of the team of Gilbert and Sullivan. We're in Scotland as yet another train is "derailed" (by some locals) and the passengers have to stay the night. They include a wealthy bachelor who can't see a pretty girl without proposing to her and within minutes he's gotten engaged – twice! What's worse is, he's already engaged! Written in 1877, a year before Gilbert and Sullivan's H.M.S. Pinafore, the celebrated team's librettist created a sensation of his own with this satire that went on to inspire the comedies of Shaw, Oscar Wilde and Noël Coward.
Sweeney Todd: The Demon Barber of Fleet Street: A Musical Thriller
Two men arrive in London, one young and hopeful, the other dark and brooding. Anthony Hope and Sweeney Todd – a barber by trade – are about to become inextricably linked in a tale of love and revenge, with a beautiful girl who sings through her barred window, a beggar woman with a mysterious secret and the irrepressible Mrs Lovett whose pie shop becomes the surprising scene of the crime. Darkly comic and brilliantly unsettling – one of Stephen Sondheim's most celebrated musicals.
For more information visit: Shaw Festival
SOCIAL EVENTS