Jaguar E-Type OTS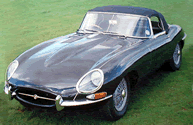 This Series One roadster was delivered originally by Jaguar Cars New York to Mr. E. Donati, Long Island, NY on 11 April, 1962. The ownership passed subsequently to Mr. J. Foster, Sauquott, NY, who drove it until 1980 and then stored it for ten years. Since acquisition by me in 1990, a total restoration to like or better than new condition was completed with considerable assistance from a professional shop. With some reluctance, in 2002, the vehicle was sold to another member of the Ontario Jaguar Qwners' Association.
As a testament to originality, this vehicle is accompanied by a certificate from the Jaguar Daimler Heritage Trust indicating that all component numbers and colors match those of the original car as delivered by Jaguar Cars New York. The excellent overall condition is readily apparent since, soon after completion of the restoration, this automobile placed first in the JCNA Driven Category, with a score of 9.962, at the Ontario Jaguar Owners Association Concourse d'Elegance show in June, 1997. The subsequent upkeep has also been exemplary since the vehicle recently received 9.982 points at a similar concourse show in June, 2001.
Restoration included the following:
All rust/corrosion on frame members and body components repaired or replaced.
Body defects patched with metal and leaded. No plastic body filler used.
Hand rubbed, multi-coat lacquer applied as per original factory finish.
All internal metal parts treated with anti-rust compound.
The original 3.8-liter, six cylinder engine was rebuilt and fitted with the correct triple, 2 inch S.U. carburetors.
The entire engine, clutch, transmission and other mechanical components were rebuilt or replaced as necessary.
All electric wiring, fuse boxes, brake master cylinder, wiper motors and electric fans were cleaned and freshened.
New chrome, 15 inch wire wheels and Michelin tires.
The boot (trunk) panels, mat and flooring were replaced with new and original lining material. A proper spare wheel plus an original tool kit and jack are included.
All upholstery, trim and carpets were replaced.
A new convertible top was fitted.
Original factory hardtop, Spare Parts Catalogue, Service Manual and Owners Handbook complete this outstanding package.
Pictures