CGIL Seminar: "Lignocellulolytic enzymes from the rumen microbiome: a biorefinery approach"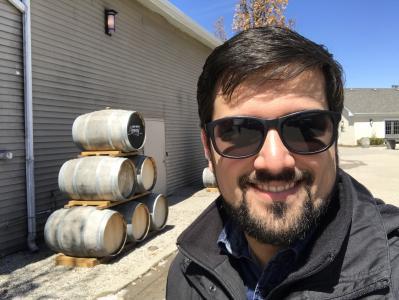 Details
Lucas Alcantara, a CGIL Ph.D. Student, will present a CGIL Seminar on Friday, February 8th. The seminar will begin at 1:30 pm in room 141 of the Animal Science & Nutrition building.
The Centre for Genetic Improvement of Livestock welcomes all interested University of Guelph staff, faculty, students, and industry or academic collaborators to attend our CGIL Seminars, which are held on  Friday afternoons throughout the Fall and Winter semesters. The meetings are always available remotely via Fuze, for those unable to attend in person, and presentation recordings may also be available after the seminar. Please let me know if you need further instruction on how to connect to Fuze or view available webinar recordings.  
Lucas obtained his Bachelor's in Biotechnology (2015) and a Master's in Biosciences (2017) from the Federal University of Bahia, Brazil. Through research projects during his undergraduate studies, he acquired experience in genetic polymorphisms, molecular biology, fermentative processes, bioprospection of microorganisms, and in the production and purification of industrial enzymes. He was an exchange student at the University of Toronto (2013), where he improved his skills in molecular biology and enzymology while studying the biological degradation of pine tree bark by different fungi species for bioethanol production. As a master's student, he decided to understand the role of different bacteria from the rumen in the degradation of plant cell-wall through bioinformatics analysis, and target species with the potential to produce enzymes of industrial interest. His passion for research and new challenges brought him to the University of Guelph in 2018 to pursue a Ph.D. in Animal Science, where he seeks to understand the impact of cutting-edge technologies on breeding strategies for optimum sustainable genetic progress in Canadian dairy cattle. 
Erin Massender (emassend@uoguelph.ca)
Share this page
Find related events by keyword